Every rider knows that their bike has to be in top condition if they're to get the most out of it. Your motorcycle can take you just about anywhere in the world, and give you the chance to broaden your horizons and take your pick of new destinations. But without the very best parts, your bike will never be able to fulfill its potential.
And one of the most important systems on your bike to consider is your brakes. Brakes need to be maintained to the highest standards, both for ease of use, and more importantly, for your safety. They take a lot of wear over the course of their working life, and you need to be able to depend on them at all times.
That's why we created our Floating Brake Disc kit for the Harley Davidson Touring . Designed to fade resistance and increase braking power and modulation, the kit has been engineered to the highest standards, to guarantee the best possible quality and performance.
Braking bands are fully tempered, unlike cheaper versions that are only tempered on the surface, resulting in a lasting resistance to fatigue and fade.
All parts are CNC-made, for 100% accuracy that guarantees the highest levels of performance.
We've also upgraded the fully floating disc to 320mm for increased braking power, and used a 10 button braking band for a more controlled release of that power.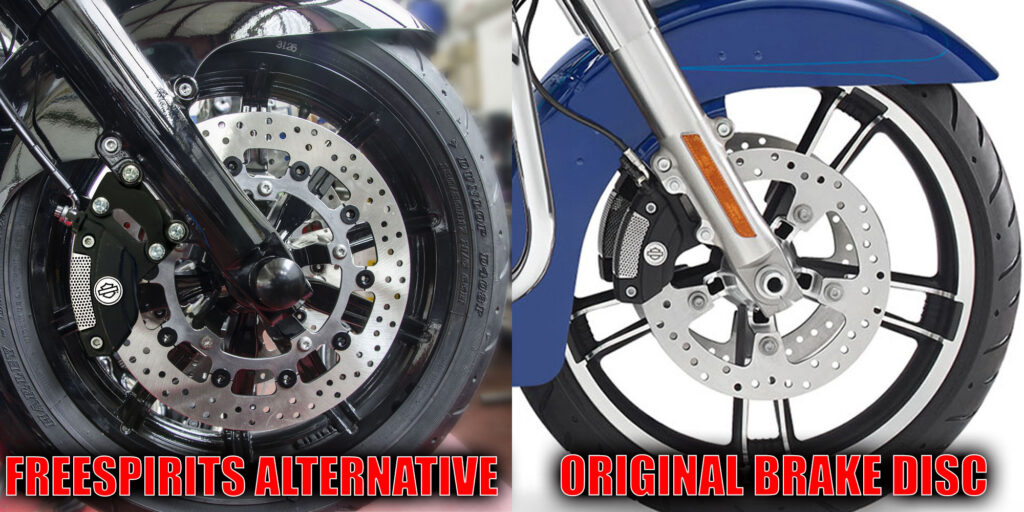 Each kit includes:
two CNC machined caliper relocation brackets (black anodized)
two fully floating front brake rotors (diameter 320 mm), with fully tempered high-quality braking band, alloy hub and buttons
two pairs of high quality sintered type brake pads
Kits use the OEM master cylinder, brake line and caliper, and are suitable for models with ABS.
Don't miss out on your chance to upgrade your braking system, for increased performance, and complete peace of mind.
Click on this link to have more info: https://www.freespiritsparts.com/brake-kits-touring