Nowadays motorcycles are faster, and in our specific case heavier plus if we add the carelessness and chaotic traffic, a reliable good brake system on a motorcycle is one of the most important aspects.
These qualities are enough to give the rider confidence and straightly affect safety on the road.
Riding slowly and braking gently will not feel any flaws, but if start to push a little more or a take a journey to the mountains or braking hard numerous times in hot day city traffic, the brakes might fade.
But even though they're a vital formula in the motorcycle equation, brakes, like tires, get very little respect for all the services they provide. Most of us take those essential pads, rotors and calipers.
After sharing our own knowledge and experience with a well-known Italian brake system manufacturer such as Newfren, we constantly develop new kits, with high performance hardcore stainless full floating disc and Brembo calipers. A brake system that will be a solution for your Harley Davidson.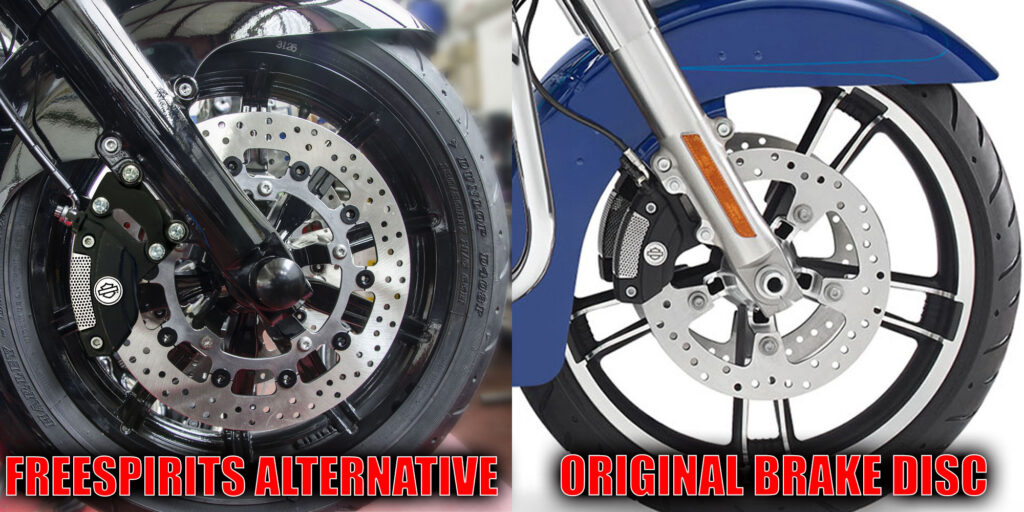 In this specific case; the Floating discs are constructed in two parts, a center part so call carrier which is fixed to the motorcycle wheel and a braking band which the brake pads push on. The floating system allows the discs to expand and prevent them from warping. Also, the larger diameter disc, 320mm, permit to dissipate better the heat over having a greater surface contact with the pad.
Because our full floating discs are NOT a massive production of brake rotors you will have the following benefits:
The braking bands are fully tempered, not only on the surface, which offers a long-lasting resistance to fatigue and fade;
Each bottom seats are C.N.C. machined NOT sheared and each alloy bottom are C.N.C. made, NOT drawn, offering a precision brake confidence for the rider;
Our full floating discs are upgraded to 320mm to increase the braking performance;
The breaking bands are C.N.C. grinded, keeping dress holes Sharp, NOT sunken (like you would if you polish it) This way allow pads to properly performing rather than get burned.
Last but not least we chose a 10 button braking band, to better release the heavy-duty braking power.
Do you want to know more about these Brake Discs kits? News will be coming soon.
Follow us on our socials to be updated!